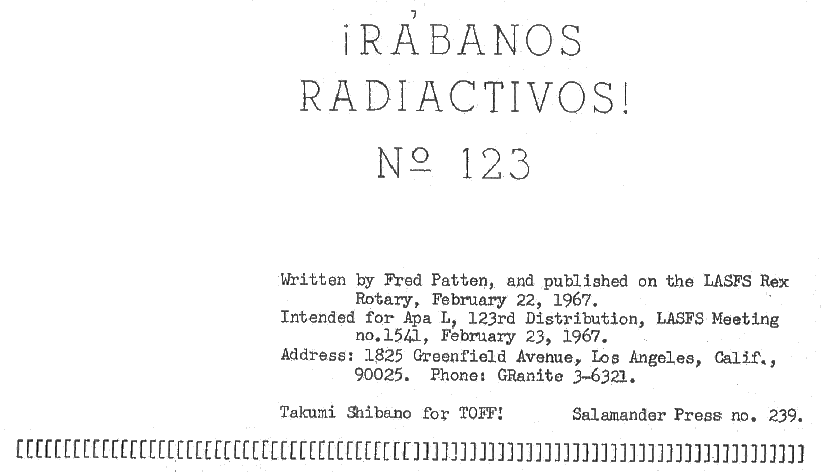 I'm unexpectedly glad that I'm taking a course in German reading at USC on Monday nights. There's another class, apparently on the history of cinema, only a few rooms down from mine, and I sneak in after my class to see whatever films are being shown. Unfortunately, I come in halfway through the class, so I miss the first of the two films shown; but the ones I've seen have been quite interesting.
The first night of the class, a week ago, the film that I saw was a compendium of shots from various old silents, showing the first examples of different kinds of camera work and special effects: the dinosaur-animation shots "in London", from the Wallace Beery "Lost World"; a 1920 "20,000 Leagues Under the Sea" with the first underwater filming; a 1910 British film predicting the "War of the Future"; early examples of cross-shooting, dissolves, and so forth. This week, the lecture was about D.W. Griffith; the film I missed in the first half of the class was a selection of highlights from "Birth of a Nation", but I saw the complete film of "The Fall of Babylon". This was originally the Babylonian sequence in "Intolerance"; the professor explained that after "Intolerance" turned out to be a box-office failure, Griffith cut each of the four separate sequences apart and re-released them as separate films. I had seen "Intolerance" a few years ago, and I was surprised to discover that the film shown here had an entirely new ending; originally the Mountain Girl (the central figure in the sequence) died during the fall of Babylon, but here there was a new sequence showing her living through it and returning to the hills with her warrior-poet lover. I questioned the professor about this after a class, and he said that Griffith originally shot each scene in "Intolerance" in a number of different ways (a total of over 11 hours of footage), compiling the finished film from the versions that best built to the dramatic effect he wanted; when he rearranged it into four separate films, he used some of the alternate footage in spots, including some of the happier endings. I wish I could see the alternate ending to the Saint Bartholomew's Day Massacre sequence -- and I tend to doubt that Griffith shot any revised endings for the Crucifixion sequence.
At any rate, it's a very interesting class. I'm glad I'm not paying $100 to take it, but I hope I can continue to sneak in and catch the last half of it for free.

-- BEING COMMENTS ON LAST WEEK'S DISTRIBUTION
Jim Schumacher -- Gee, I haven't gone on a real used-book browsing spree in a long while. There's so much new s-f coming out in the magazines and paperbacks that I don't have time to read, that I've lost the drive to go rummaging through old bookstores for back stuff. Also, I've come through experience to know which of the bookstores in L.A. are likely to have something of value, and which a re like to be full of trash and/or run by kooks; and I avoid the latter. If you like to observe the kooks, though … hmm, there's always Mr. Ne Plus Ultra up on Hollywood Blvd., in the same block as the Cherokee Book Store. I forget the exact name of Mr. Ultra's shop (that isn't his name, either; I call him that because of his sign advertising the Ne Plus Ultra in books between Ultima Thule and the Citrajacine Sphere, or words to that effect), but you can't miss it; it has the highest prices in town. Or then there's Larson's, down by Hollywood & Western. Come to think of it, I haven't been to Larson's in the last three or four years, so I can't guarantee the shop is still there anymore. At the time I discovered it, it still had the remains of a very good s-f selection that it had apparently acquired about 1952 and never sold; I picked it over for what I wanted and then stopped going there. The store's main trade seemed to be in occult and obscure religious books; it's an immense, dimly-lit vault with stacks of books reaching up about 35 feet to the ceiling. The proprietress, a large woman, was almost lost in the vast stretches of narrow aisles; she had a counter somewhere toward the back end of the shop, in an unexpected clearing. She never bothered me, but she often had strange conversations with friends of hers (usually involving unorthodox theological beliefs) that carried eerily through the passages of the silent shop. That was the only sound in the shop, except for the wheezing of her asthmatic cat, a large but scrawny white-and-orange beast in a knitted sweater, that was always wandering aimlessly through the store and whose breathing could beheard from at least two aisles away. After I entered Fandom, Jack Harness told me thathe often had great luck in finding hard-to-get Dianetic and Scientological books there.
Dave Van Arnam -- The"new"edition of The Lord of the Rings is the latest printing of the hardbound volumes from Allen & Unwin, which incorporates all of the new material that was prepared for the Ballantine paperback edition (except for the last paragraph in the Foreward, exhorting the reader to buy this Authorized paperback edition and no other).
John Ryan -- I've got crisp copies of your new $1 and $2 bills in my paper money collection, and hope to be able to afford to add at least the $10 bill before too long. They're among the most attractive pieces of paper currency I've ever seen, printed in bright colors and looking more like examples of modern commercial art than classical financial paper. The U.S. hasn't changed the basic design of its paper money in the last 30-40 years, with the result that it's looking more colorless and old-fashioned every year. Washington officially feels that the continued use of the same design reflects the steady and solid basis of our country's financial system, and that to change it would be to arouse doubts in the public's mind about the "real" value of our money (which is switching more and more to fiat paper every year).
Dian Pelz -- I don't know whether your new policies for Apa L will be "the best" for it or not, but they at least all sound reasonable enough to be worth trying. I am unhappy, though, with your implication that I've abandoned Apa L because I don't want to have to accept the responsibility of having to fold it when it dies. If that were true, I'd've jumped off several months ago, when our Dist'ns were barely over 30 pages (and sometimes not even that) and it really looked as though Apa L might die at any time; now, with an average of over 40 pages a week and new contributors such as John Ryan and the Valley group becoming active, we're relatively healthy again. You still seem to be obsessed with the notion that Apa L is on its last legs and will give up the ghost any week now; not so, I say!