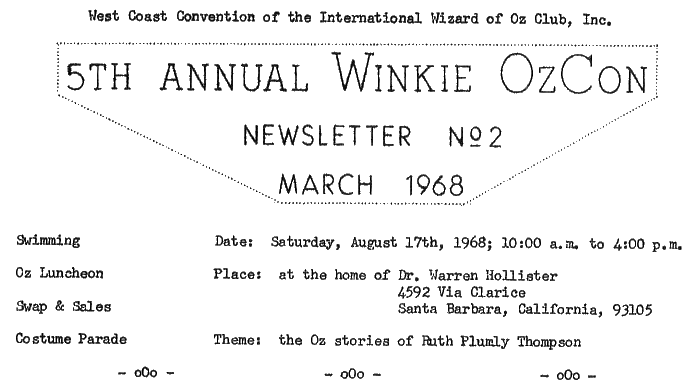 The Winkie OzCon is only a few months away now, and we hope you're all looking forward to it. Papers are being prepared, and games and activities are being lined up; there will be exhibits and an Oz-Quoz as usual. Dr. Hollister has a fine swimming pool, and we suspect that anyone who doesn't come prepared to take advantage of it will be sorry. And, in the afternoon, we will have our COSTUME PARADE, for which everyone is encouraged to bring a costume -- preferably as a character from one of Ruth Plumly Thompson's Oz stories, in keeping with our theme, though if your favorite Oz character happens to be from one of the other books, this is perfectly all right. Facilities for changing into costume will be available, and prizes will be awarded for the best costumes, in grown-up's and children's (12 & under) categories.
We will have our usual catered luncheon at noon. To pay for this, and for our other expenses, the registration fee this year will be $3.00 for grown-ups (over 12) and $1.50 for children (12 and under). To give us an idea of how many people to expect, we'd appreciate it if you'd fill in the form below and mail it to us, if you plan on coming. If you aren't sure yet, or you'd rather wait until later to send in your reservation fees, there'll be a 3rd NEWSLETTER with this form in June, and you can let us know for sure then.
| | | |
| --- | --- | --- |
| - o0o - | - o0o - | - o0o - |
The Heritage Bookshop, 6707 Hollywood Blvd., Hollywood, California, 90082, has a set of 6 original, non-Oz, W.W. Denslow illustrations for $250.00. I have no idea whether they're really worth this or not -- it's my belief that all merchandise sold along Hollywood Blvd. is overpriced; especially the contents of rare-book stores -- but I pass the information along for the benefit of anyone who may want to investigate further. The only one of the illustrations on display shows a polar bear in a dinner suit frightening a group of people similarly dressed.

Dr. Hollister's home is a few miles northwest of the city of Santa Barbara itself, up in the mountains near the Pacific Coast, with a nice view, and ideally situated to catch the cool sea breezes that will make the day a welcome relief from the usual heat and smog of Southern California at this time of year. The best route, especially from the south, is the Freeway, HIghway 101, to the Cieneguitas Road turnoff. Continue north along Cieneguitas Road until it turns into San Marcos Pass Road (State Hwy. 154) and heads north into the mountains. Keep going for about two miles; you'll drop down a road on your left; Antonio Creek Road. Turn left onto this road, which will take you into a newly-built residential neighborhood, and turn to the right at the first cross street, which will be Via Clarice. Drive to the end of the block. Dr. Hollister's home is the last house on the right.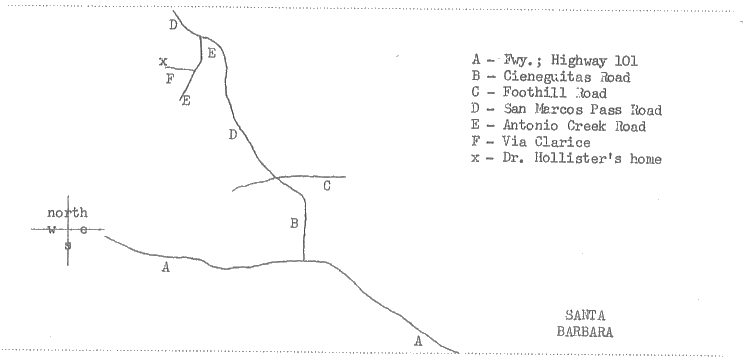 Stop press; just received:
March 20
Dear Fred:
It will be my plesure to bring and show the Oz films that I have, at the August Convention. This film is now almost a complete reel and takes almost forty or forty-five minutes to show.
We also have four cans of 32 mm film on the original Patchwork Girl of Oz. I hope to have something ready to show on this film also, if there is time.
As you know, my Mother passed away last month, and she had a great number of Oz books, first editions and others of interest, that are now being put up for bid. Unfortunately we cannot wait for the convention, and so if you or other Oz collectors are interested, write me and I will send you a list of articles for sale.
Stan Baum
---------------------------------------------------------------------------------------------------------------------------------
Best of luck to QuadCon II from WinkieCon V!
Published by Fred Patten, March 1968. Salamander Press no. 322.
----------------------------------------------------------------------------------------------------------------------------------