What's New?
--2005 - 2010--
August 5, 2010
Fred has moved to San Fernando Post Acute Hospital, 12260 Foothill Blvd., Sylmar, CA 91342. For best results contact him either via email or his sister.
August 4, 2010
Fred is changing hospitals, after a nasty bout with bedsores. Right now he can be contacted via his sister. More info here when I have it.
May 22, 2010
Fred was recently hospitalized for infected bedsores. He is currently recovering in the Post Acute section, and it is not yet known when he'll be back to Golden State. If you need to contact him, email is probably best. Do not expect a quick reply.
May 7, 2010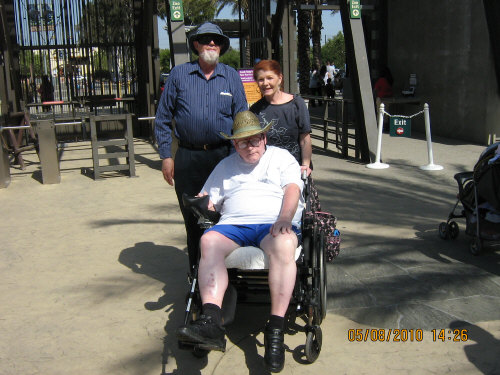 Fred at the Los Angeles Zoo with Tom Locke and Sherry Patten.
November 28, 2009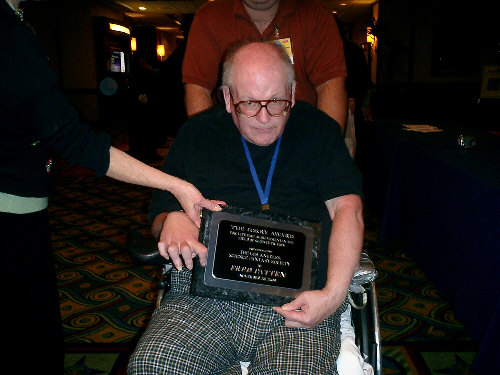 Photo by Gina Palmer
Fred recently received the Forry Award for lifetime achievement in the field of science fiction. Here he is at the annual convention (LOSCON) of the Los Angeles Science Fantasy Society
.
August 11, 2009
A recent note from Fred's sister, Sherry Patten
Once a month, Jan. - June, Fred visited Dr. Melissa Conway and the librarians at The Eaton Collection @ UC Riverside where he was video interviewed several times about "fandom", and provided information about some of his non-book donations to The Fred Patten Collection.
Feb. 10th Fred saw "Coraline" at a movie theatre in Burbank.
He was "Fan Guest of Honor" at BAYCON (Memorial Day weekend in Oakland); as he was unable to attend the convention, Stephen Nelson (husband of Baycon committee chairperson, Christine Doyle) video interviewed Fred for over an hour in his study at my apt. (Tadao Tomomatsu was "on camera", asking Fred questions about his interest in fandom) on May 16th. The video interview was played at Baycon on Sunday, May 24th.
June 30th, Fred had lunch with longtime Japanese anime enthusiast Bill Winckler at a Japanese restaurant in Woodland Hills.
In recent months he's watched a few old movies at my apt., and a few recent ones ("Enchanted", "Nim's Island").
Tho he doesn't have too much interest in reading books now, Fred has read the latest mysteries by authors he enjoys, and a few Harry Turtledove books.
In early July Fred spent a few days having tests at Mission Community Hospital; while his doctors discuss possible "procedures" to improve Fred's general health, he's currently "limited" to attending LASFS meetings every other Thursday.
Regards, Sherry
July 4, 2008
Fred tells me that due to declining health (hopefully temporary), he has resigned from the writing projects in mid-2008 that he had been continuing after his stroke in 2005.
March 24, 2007
I have been keeping busy reviewing books, mostly Furry fiction for the bimonthly Anthro magazine. Issue #10 was posted at the beginning of March, and #11 will go up at the beginning of May.

March has also kept me busy as the Secretary for the Anthropomorphic Literature and Arts Association (ALAA), the society that administers the annual Ursa Major Awards. We have been trying to establish "diplomatic relations", so to speak, with the larger and longer-running Furry conventions to get them to promote the Awards among their memberships. So far eight conventions have agreed to do so, and have each appointed a representative to join the ALAA's Directors: Anthrocon in Pittsburgh in July, CaliFur in Southern California in May, Eurofurence in Germany in September, FurFright in Connecticut in October, Furry Weekend Atlanta in February, Midwest Furfest in Chicago in November, Morphicon in Columbus in May, and Rocket City FurMeet in Huntsville in May. We tallied all the nominations for the 2006 Ursa Major Awards in early March, and opened voting for the Awards, which will go from mid-March through mid-April. Then we have to tally the votes, determine the winners, and prepare the trophies in ten categories in time for the presentations at CaliFur 3, in Costa Mesa on 4-6 May.

In late March I got a request from Gina Ruiz to review manga for The Flipbook*, a new Internet review magazine of books of all forms of fantasy. She has contacts with several major publishers, and offered to ask them for any books I want to review. I replied that I am already reviewing manga for the Comics Buyer's Guide, but I would like to review books about American and international animation, and regular s-f novels instead. So she has just requested about $150 worth of new books from various American and British publishers for me, including several that I have been waiting for from the Los Angeles Public Library for weeks like Walt Disney: The Triumph of the American Imagination, by Neil Gabler (Knopf, $35.00) and Halas and Batchelor Cartoons: An Animated History, by Vivien Halas & Paul Wells (Southbank Publishing, £19.99).

*now defunct, contents moved to The Graphic Landscape. See the 2007 archives.

Apparently The Flipbook is a more prestigious book review site than I had realized. Since my first reviews were posted, FedEx has been delivering boxes of books for review to me almost every day. On Friday, 23 March, I wrote and sent in a review of Lawrence Watt-Evans' fantasy novel The Spriggan Mirror in the morning; The Flipbook posted it around noon; and by the end of the day it had been picked up and reprinted on the Reuters International News Service site. Of course, I don't get paid, but the honor of being headlined ("Fred Patten Reviews The Spriggan Mirror") on Reuters News should be good for a few more review books.
November 30, 2006
Click here for Fred's Loscon 33 report. As always, thanks to all who helped him attend the convention.
September 10, 2006
Click here for Fred's LACon IV report. Thanks again, to all who helped him attend.
September 2, 2006
On Thursday, August 24, Fred was given the Life Achievement Award at LACon IV. Text as follows:

Fred Patten
in celebration of a lifetime service
to Fandom

with thanks from
the committee & members
2006

L.A.CON IV . THE 64TH WORLD SCIENCE FICTION CONVENTION
March 13, 2006
Fred has been moved to another, somewhat larger room. How long this will last is anybody's guess. He now has a biographical listing in Wikipedia. FURRY!: THE BEST ANTHROPOMORPHIC STORIES EVER, the mass-market edition of BEST IN SHOW has been released by iBooks as of February 9, and may be found in bookstores.
December 30, 2005

Fred is back in his room and at his computer after some time being treated at another hospital and recovering in isolation, during which time he was away from his email.
November 10, 2005
From ¡Rabaños Radiactivos! (Fred's weekly zine which appears in APA-L)
Last week, the Internet Furry magazine Anthro #2, November-December 2005, was published with the beginning of a regular book review column by me, "Seen While Prowling". This is my first published work besides ¡RR! since my stroke.
Actually, while this is the first publication of these reviews, only the first (the combined review of Ralph Hayes' Nip and Tuck and Tales of the Questor collections) is newly-written. The other two reviews were written over two years ago for the never-published Yarf! #70. I wrote almost a dozen book reviews for Yarf! and Claw & Quill which were unused when those two Furry magazines "went on hiatus" without warning. Anthro has accepted them, to be intermixed with new reviews so all my reviews there will not be of one- and two-year-old books.
I hate for my writing to go unused to so am very happy to see my reviews of The Tale of the Swamp Rat and Lionboy published at long last. The books are still in print, so the reviews are still pertinent. I prefer print magazines to Internet magazines, but the latter have the advantage of being able to show the covers of the books I review in full color.
2017, 2016, 2015, 2014, 2013, 2012, 2011
Website by Shapero Software Systems.