What's New?
--2011--
December 2011
Fred is accepted as a member of the Furry Writers' Guild.
Fred (with Sherry's help) attends a special screening of A Cat in Paris (in French, subtitled.

October 2011
Fred begins contributing to the Internet Science Fiction Data Base ISFDB, adding information and new entries to the online data base of s-f authors and their books.
July, 2011
Fred received an illuminated certificate from the County of Los Angeles recognizing him for his expertise in the field of Japanese anime and manga. He has had it framed and added to his art collection.

Text as follows:
County of Los Angeles

(IMAGE)

California

"Enriching Lives"

County of Los Angeles
(Bookcover Image)
Watching Anime,
Reading Manga
Fred
Patten
IN RECOGNITION OF LIFETIME OF CONTRIBUTIONS AS A PIONEER FOR ANIME IN THE UNITED STATES AND AS A MEDIA AND SCIENCE FICTION HISTORIAN WHO HAS DELIGHTED AUDIENCES AND MENTORED MANY AND ENHANCED LOS ANGELES COUNTY'S RENOWN AND ECONOMY AS AN ENTERTAINMENT CAPITAL, I, MICHAEL D. ANTONOVICH, ON BEHALF OF THE BOARD OF SUPERVISORS OF THE COUNTY OF LOS ANGELES AND ITS TEN MILLION RESIDENTS, HEREBY HIGHLY COMMEND FRED PATTEN AND EXTEND DEEP APPRECIATION TO HIM FOR SHARING HIS PASSION AND TALENTS WITH ALL OF US.
JUNE 2011
(Gold Seal)
COUNTY OF LOS ANGELES
CALIFORNIA
(signature)___________________
MICHAEL D. ANTONOVICH
Mayor, County of Los Angeles
June 2011
Fred resumes reviewing books for the Anthro and Flayrah websites.
Fred is interviewed by Pete (Cynwolfe) Smith, video later shown at the 2011 MIDFUR convention in Melbourne.
January 23, 2011
Fred was added to the Shel Dorf Fan Club on Sunday, January 23. Here are some pictures:
| | |
| --- | --- |
| Fred's Membership Card | and Membership Certificate |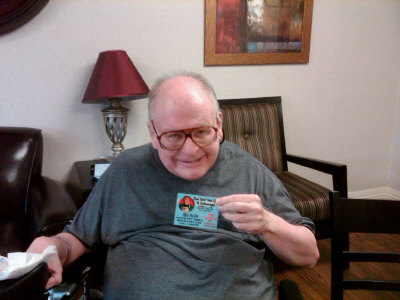 Fred and Membership Card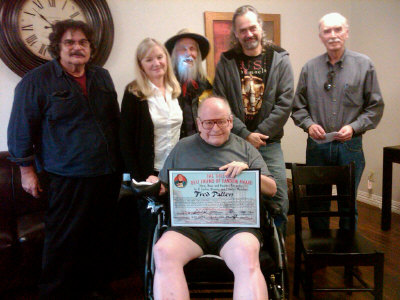 Greg Koudoulian, Svea Macek, Fred, George Clayton Johnson, William Clausen, and Richard Kyle.

Greg started the Shel Dorf fan club last year in Shel's memory after Shel died. Shel was the main founder of the San Diego Comic-Con in 1969 and he ran it for its first two decades.
2017, 2016, 2015, 2014, 2013, 2012, 2005-2010
Website by Shapero Software Systems.